Diamond Wedding Bands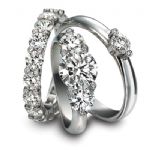 At
WeddingBandsWholesale.com
we offer the latest in
Diamond Wedding Band
styles and design, while preserving a great reverence for tradition and class. Our skilled craftsmen have dedicated their lives to crafting beautiful diamond jewelry, and each of our rings is made with the latest in diamond jewelry technology combined with decades of experience.
With the unlimited amount of designs to choose from, there is sure to be one style that appeals to your senses for your beautiful wedding bands and ensure eternal love and dedication. These priceless pieces are sure to display your love for one another for years to come.
Diamonds are highly regarded as a prized option for taking a standard wedding band and adding shine and dazzle. While many companies set these diamonds according to machine mechanisms, Wedding Bands Wholesale is proud to offer you impeccable service with hand and individually set diamonds in each wedding ring, diamond ring, and engagement ring we create. Also, we hand craft many exceptional
men's diamond wedding bands
that feature beautifully skilled diamond cut designs with diamonds, along with a wide variety of diamond wedding bands for women.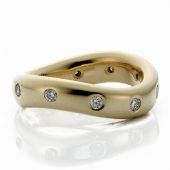 Diamond wedding bands
are appropriate for both men and women who want a bit of added elegance in their wedding ring. Whether it is a band of gold or platinum, diamonds add the perfect amount of decadence and style to any wedding band.
A
Diamond Wedding Band
is perfect when commemorating a special moment, celebrating your love for someone, or joining your future
with another's in matrimony. In any event, you can be sure that WeddingBandsWholesale.com has your happiness at our hearts, and we will do everything we can to unite you and your loved one with the perfect
Diamond Ring
.