Diamond Wedding Bands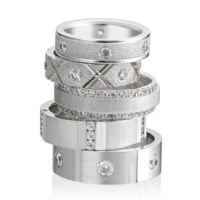 Here at WeddingBandsWholesale.com, we manufacture all of our rings to the jewelry industry's highest standards of quality and design. Our exquisite diamond wedding bands are no exception. Our expert diamond setters use only the highest quality diamonds, certified to meet the standards of the best diamond grading labs in the world. At WeddingBandsWholesale.com, we combine the world's most time honored traditions of creating fine jewelry and diamond setting, with modern technologies and designs to offer our customers the finest and most unique diamond wedding bands at unbeatable prices. Our dedication and experience sets us apart from others as we strive to make sure our customers are happy with every aspect of their purchase.
**All Rings Available in All Gold Colors, Palladium and Platinum**
Say "I Do" With Sparkle
The big moment arrives and the bride extends her hand to her groom as he places her diamond wedding ring on her finger. The sparkle and glitter of her diamond weding band catches the light for all of the wedding guests to see. It may be a simple arrangement of Pave' set diamonds or the glint of gold with a larger diamond stone that magnetizes the eyes of everyone in the chapel at that special moment with the bride and groom say "I Do". In a double weding ring ceremony, the bride and groom share their special moment of joy. A groom's diamond wedding ring can match his bride's or it can be designed with a more masculine diamond weding band style.
Wedding Bands
Diamond wedding bands
aren't just elegant, their simple design portrays the depth of eternal love and commitment shared between the bride and groom. The trend today toward diamond wedding rings has risen in popularity. The beauty of frosty, prismatic diamond wedding bands appeal to both men and women. The designs of these diamond wedding rings convey a modern or traditional look and suit most any tastes in jewelry. Diamond bands are also a great gift to mark a special wedding anniversary.
Choosing A Style For Diamond Bands
When it comes to choosing a style for the bride and groom, take the time to consider that this is a piece of jewelry that can be worn every day. It will catch most attention with every movement of the fingers or hands. So, the style should create the most personalized fashion statement for the individual. There are medium to wide gold diamond rings that offer the traditional look of the gold dome with the addition of the contemporary style of diamonds. These gold diamond rings may be designed with a number of delicate patterns such as the double milgrain of the Park Avenue style.
If Platinum Is Your Pleasure
Platinum diamond rings are the ultimate in rings styles. Platinum diamond rings combine the luxurious elegance of the pale flash of platinum with icy diamonds in subtle styles that wear well with any wardrobe. Platinum never goes out of style. It fits in well with the most contemporary jewelry pieces and yet, it also appeals to the traditionalists who love the antique look of rings with intricate detail.
Quality Doesn't Have To Mean Expensive
Shop around to gather ideas about the quality of rings available in the open market. Then, stroll over to
www.weddingbandswholesale.com
and see the difference a reliable online jeweler makes to a ring purchase. Wedding Bands Wholesale designs and manufactures rings on site. Few jewelers can make that statement. On site ring manufacture translates into greater savings as factory direct prices without sacrificing quality. Customers have the assurance that Wedding Bands Wholesale prides itself on setting only top quality diamonds into beautiful rings they create. Customers are secure in the knowledge that satisfaction is a top priority at Wedding Bands Wholesale.