Our Diamond Cut Wedding Bands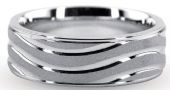 Diamond cut wedding bands allow for more features and designs to be crafted onto the precious metal you have selected for your wedding ring. Diamond cut wedding bands are created with a special tool that emphasizes both precision and accuracy when delicately shaping and cutting into the
platinum wedding band
or gold. Wedding Bands Wholesale is proud to offer you a wide selection of
diamond cut
styles in various shapes and patterns. Feel free to browse our diamond cut wedding rings for a style that helps to reflect your unique taste.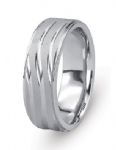 A precision tool helps to create our
diamond cut wedding bands
that is formed using the tip of a diamond to emphasize accuracy and design with care. This tool is then able to create patterns and complex designs unique and one of a kind. Because of the precision of this tool there are various patterns that can be formed in diamond cut wedding bands that includes the combination of large and small grooves or channels, the inclusion of wave designs, and also a distinction between finishes on the same ring. The surface texture may also reflect the design as well and add more variation when crafting with diamond cut tools. The wide variety of options that can be created, allow for endless freedom when designing on either platinum or gold wedding rings, similar to an artist with a bare canvas.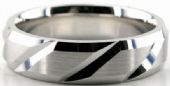 Wedding Bands Wholesale offers a variety of designs that are sure to appeal to your tastes, and if you are able to present us with a design you have seen or have in mind we will be more than happy to try to match your design. The result of the Diamond cut is of a beautiful and unique display of your gold wedding bands' true luster and shine.

Keep in mind that diamond cut wedding bands have quite a contrast between the lines of the diamond cuts and the rings surface, even with shiny polish finishing. To enhance this contrast even more, Wedding Bands Wholesale gives its customers the freedom to choose from a variety of finishes that can easily be found in the Wedding Bands Finishes section of the website. Our fine jewelry experts will be more than happy to assist you in any way when choosing the right finish for your diamond cut ring.
When buying a wedding band, a piece of jewelry that is meant to be worn for a lifetime, it is of great importance that the ring reflect the style and character of the person who wears it. Diamond Cut Wedding Bands are an excellent choice for someone who is looking for a ring with a unique, yet timeless and sophisticated design.