Free Engraving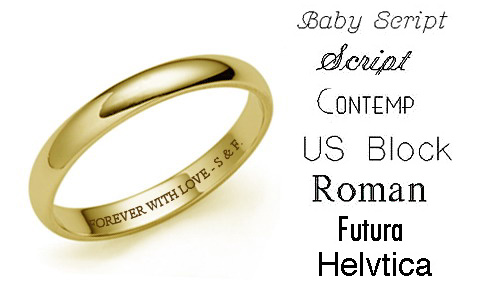 Engraving on your beautiful ring allows you to make your wedding band unique and sentimental. Couples may opt for adding their spouse or fiance's name and wedding date on their wedding ring. An inscription allows for your ring to have a special message between only you and your loved one. Other potential ideas for adding a distinctive engraving can be viewed below:
*Important dates (Wedding day, engagement day, etc.)
*Personal messages
*Initials
*First names
*Nicknames
*Special sayings of significance
*Song lyrics of significance
Still wondering what inscription to put inside your wedding band? Perhaps some examples will help to spark your imagination. Please email our customer service department for help with your engraving ideas. customerservice@weddingbandsWholesale.com
Have you thought about what the message will say? Here are a few engraving ideas from WeddingBandsWholesale.
Your Names and Wedding Date
For brides and grooms who prefer a classic approach, this engraving never goes out of fashion.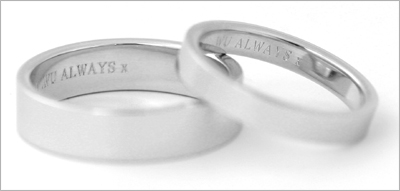 Forever
Forever.. a simple word with an important meaning. Wrap your intent to stay together always (there's another top engraving) around your finger, where you'll be reminded of it every day. You can include your initials and wedding date if you like.
"Amor Vincit Omnia"
Latin for "love conquers all." Engrave a message in Latin and few people will understand it, making the sentiment more personal to you and your spouse.
Nicknames
Brides and grooms sometimes engrave each other's nicknames inside their wedding rings.
A Religious Phrase
Choose a portion of a phrase or verse that's significant to your religion.
A Special Phrase
Choose a personal phrase, one that only you and your future spouse understand the meaning of. Go ahead, inscribe the phrase in your rings, let everyone guess its true meaning.
Poetry and Literature
Words from any special poem or book, sentimental to comical.
Romantic
"Amor Vincit Omnia" (Latin: love conquers all)
"Semper Amemus" (Latin: love always)
"Semper Fidelis" (Latin: always faithful)
"From this moment on"
"Truly, Madly, Deeply"
"Love, honor and cherish"
"Mon coeur est a vous" (French: my heart is yours)
Humorous
May The Force Be With Us
A deals a deal
Nonrefundable
You're Stuck With Me!
Simple
In the groom's ring write (brides name) to (grooms name) in the bride's write (groom's name) to (bride's name) plus the date.
Just the wedding date
The title (or meaningful phrase) from your wedding song
I Love You
Till death do us part
Beloved
The infinity symbol
Religious
Whom God has joined together let no man put asunder
In God and thee my joy shall be