Our Celtic Wedding Bands
Celtic wedding bands
carry special significance both for their beauty and design and also for their cultural roots in ancient Irish history. The
Celtic wedding bands
are true works of art that challenge even the most talented and experienced craftsmen. They require great skill and concentration in all steps of creation because of their intricate designs and detail.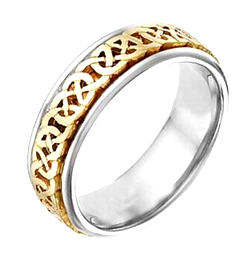 The Celtic knot, for example, is an endless, interwoven design that encircles the band of a
Celtic wedding band
; however the knot must be seamless and has many complex twists and turns. The Celtic knot celebrates man's natural complexity and ability to form masterful works of art. Further, the Celtic knot represents an eternal, unbreakable bond and has come to symbolize the enduring love and friendship between couple's.
Our Celtic rings have different variations of the Celtic knot and many use the Celtic trinity either in addition to the Celtic knot or on its own. These bands are a lovely way of celebrating the artful designs of ancient Ireland, as well as your unending commitment and love to your partner.