Plain Flat Wedding Bands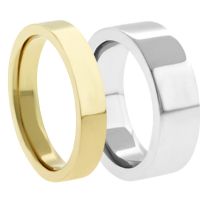 WeddingBandsWholesale.com offers a comprehensive collection of 14k gold,18k gold and platinum flat wedding bands and you can be certain that the beautiful natural luster of either gold or platinum will impress in any flat band you choose. WeddingBandsWholesale.com offers many different options in terms of width, thickness and finishing to give our customers more from their wedding band. This variation of the traditional band is beautiful in all gold colors, and with so many options of finishing, the plain flat wedding band is a wonderful choice for those who want to keep a classic look, but with their own personal touch.
**All Rings Available in All Gold Colors, Palldium and Platinum**
Plain flat wedding bands allow for a distinct and unique change from the standard wedding bands. Flat wedding bands are created with a flat surface that follows the band on the face of the wedding ring. This feature creates a modern look distinct from standard wedding bands, yet with a traditional appeal.
Flat wedding rings offer a new look for a unique display of wedded bliss. There are many methods for customizing this form of ring. Width is a crucial element in creating your unique ring. For a subtle and sophisticated look three to five millimeters is recommended whereas a more dramatic and contemporary appeal will require five to seven millimeters.
The finish of the ring can define the ultimate style. Flat wedding bands with a shiny finish are a popular selection which exemplifies a simpler yet luminous look. A matte finish can emphasize a softer presence and classic look. A satin finish can embellish the ring creating a horizontally brushed look that is both smooth to the touch and emanates elegance. A hammered finish distinguishes itself and creates a dramatic effect to the wedding band. Available in yellow, rose, white gold, and platinum, flat wedding bands can be uniquely designed to fulfill your requested taste to distinguish from the rest.
In addition to these considered and traditional ways of creating the ideal ring for you, Wedding Bands Wholesale can design and produce a custom ring with the specific settings and characteristic desired. Engravings can also be added to your plain flat wedding band to add an ultimate personal touch. Whether inscribing a vow, quote, or special anecdote; engraving essentially allows you to make your wedding band, truly yours.
The Wedding Bands Wholesale family is here to ensure that your unique flat wedding band is precisely as expected. Customer service and satisfaction is of utmost importance to us and we will work to assure you that you will be completely delighted with your special purchase.
Every step from the design to the final stage of shipment is conducted from our manufacturing facility in Manhattan's Diamond District. We produce our designs in house which ultimately reduce the cost of our products, thus generating the best quality available for reasonable prices.