Plain Dome Wedding Bands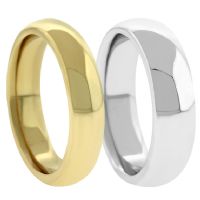 The Plain Dome Wedding Band has long been the classic and traditional wedding band preferred by many couples. It is a simple, yet elegant statement of your commitment to one another, and the life you will share together. WeddingBandsWholesale.com offers many different options in width, thickness and finishing, all of which allow our customers to make their dome wedding bands special and unique.
**All Rings Available in All Gold Colors, Palldium and Platinum**
Plain Dome Wedding Bands implement a combination of tradition and elegance to a wedding ring. Dome rings feature a refined shape that silhouettes the shape of the ring and allows for comfortable placement on the finger. The smooth contours of the dome band emanate a sophisticated and cultured appeal. As simple as a classic dome wedding band may appear, Wedding Bands Wholesale offers many options to add a touch of distinction. Available in rose, white, yellow gold or platinum, each individual taste can be addressed.
The width of the dome wedding ring can also influence and reflect taste and style. For a simpler classic look, three to five millimeters is recommended. For a more bold and conspicuous appearance five to eight millimeters is recommended. Taste and preference vary with each individual and at our Wedding Bands Wholesale we offer a wide spectrum of specifications so that your needs are satisfied. Another addition to the design is the thickness of the ring itself. Dome wedding rings are available in medium weight, heavy weight, and super heavyweight. A comfort fit option can be added to heavy and super heavyweight bands.
Along with these strategic and classic ways of creating the ideal ring for you, Wedding Bands Wholesale can design and manufacture a custom ring with the specific settings and characteristic desired. Engravings can also be added to your plain dome wedding band to add a final personal touch. Whether inscribing a vow, quote, or special anecdote, engraving essentially allows you to make your wedding band, truly yours.
The Wedding Bands Wholesale family is here to ensure that your unique dome wedding band is precisely as expected. Customer service and satisfaction is of utmost importance to us and we will work to assure you that you will be completely delighted with your special purchase.
Every step from the design to the final stage of shipment is conducted from Manhattan's Diamond District. We manufacture our designs in house which ultimately reduces the cost of the product thus generating the best quality for reasonable prices.