His and Hers Wedding Band Sets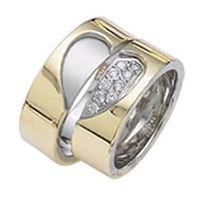 The His and Hers Weddding Band Sets demonstrate a couple's shared tastes and personality while also allowing for a distinct design difference in the men's rings and the women's rings. The His and Hers Wedding Bands Sets at WeddingBandsWholesale.com are impressive and unique. WeddingBandsWholesale.com has dozens of his and hers wedding bands sets to choose from, ensuring that every couple will find a unique design that works for them. While WedddingBandsWholesale offers only the finest quality diamonds and gold products, our customers can choose the level of gold and diamond quality that will best suit their tastes.
**All Rings Available in All Gold Colors, Palldium and Platinum**
Wedding bands have been a timeless tradition throughout the years as a symbol of love between a couple marking the most important day of their lives. Rather than selecting individual rings, his and hers wedding bands sets have been a recent and innovative addition to the world of wedding rings. Matching wedding bands ease the pressure of selecting individual wedding rings and offer a more simple and cost effective solution. Wedding Bands Wholesale is proud to offer you a wide selection of his and hers wedding bands sets that is sure to appeal to any style. This will transform your ring selection into timeless pieces to add to your everyday collection.
His and hers wedding bands sets
can make just the statement you want; from a distinctive nature to an eccentric style. Your selection process can range from having plain wedding bands in a flat or dome shape to having more lavish style with diamond cuts, grooves, designs, twists, braiding, and the inclusion of diamonds for that extra wow factor.
His and hers
wedding band sets
are a special symbolism of a couple's commitment to one another. By wearing matching sets, a couple shares a unique bond that is both personal and intimate; essentially allowing for your marriage to be displayed in a beautiful manner. Knowing that you and your loved one share similar bands, essentially connects you in a special way that no other ring can.
Customizing his and hers wedding bands sets is easy with Wedding Bands Wholesale! We allow you to select the precious metal type ranging from 14k, 18k or and 950 platinum to the gold color selection; rose, white, or yellow. This will make your selection the ultimate duo in either gold or
platinum wedding bands sets
. Finishing styles range from shiny, matte, satin, hammered, and soft brush to allow you to create the look you desire. Also the width of the wedding bands as well as the style and addition of diamonds can create a more traditional or fancy piece. We carry diamond shapes from round brilliant to princess cut as well as having the highest quality of diamond standard at G-H/VS which can be altered to higher quality if requested.
Because we are a factory located in the heart of New York City, we are able to customize your ring to your exact specifications and want to accommodate your explicit requests and requirements. We are more than happy to help you before, during and after your purchase because we understand that when buying jewelry, you are essentially building a union. It is not just a ring; it is a choice for one of the most important moments in your life. At Wedding Bands Wholesale we want to assist you in all your jewelry needs. We have knowledgeable staff and jewelers available for assistance and inquiries. Feel confident in choosing Wedding Bands Wholesale and expect the best quality available to you.