Handmade Wedding Bands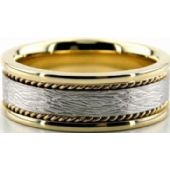 Handmade Wedding Bands from WeddingBandsWholesale.com come in many differing styles and sizes, but one thing is certain: they stand out. The skill and craftmanship that go into these one of a kind bands are evident with just one look. From intricate braiding and detailing to more subtle looks, any of our choices are sure to blow you away. Choose from our lovely selection of 14K, 18K and Platinum handmade wedding bands, or give us your ideas on what would make a spectacular handmade wedding band for you and your loved one.
**All Rings Available in All Gold Colors, Palldium and Platinum**
Handmade Designer Wedding Rings…Anything But Ordinary
Handmade designer wedding rings are a different dimension in wedding bands, because they are anything but ordinary. Handcrafted with intricate details and handmade fixtures, our line of handmade designer wedding bands offers everything you could want including distinction and elaborate custom work.
Adorned with intricate components with roping, netting, braiding twists and twirls; these details surround the ring as it emanates a presence of unique taste and refinement. Handmade designer wedding bands are available in single tone, two-tone, and tri-color selections. The finishes available for these styles add dramatic effect to the entire band.
Many of our handmade designer bands have layered settings with a combination of multiple design techniques in one piece. The edges are usually made with a shiny finish with the center piece being of ornate graphic detail that can conjoin braid or roped borders surrounding a special focus piece.
In addition to these considered and traditional ways of creating the ideal ring for you, Wedding Bands Wholesale can design and produce a custom ring with the specific settings and characteristic desired. Engravings can also be added to your handmade designer wedding ring to add an ultimate personal touch. Whether inscribing a vow, quote, or special anecdote; engraving essentially allows you to make your wedding band, truly yours.
The Wedding Bands Wholesale family is here to ensure that your wedding band is precisely as expected. Customer service and satisfaction is of highest significance to us and we will work to ensure you that you will be completely pleased with your special purchase.
Every step from the design to the final stage of shipment is conducted from our manufacturing facility in Manhattan's Diamond District. We produce our designs in house which ultimately lessen the cost of our products, thus generating the best quality available, for reasonable prices.
.