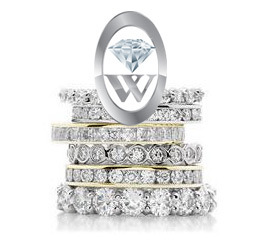 Opting for a wedding set with an eternity wedding band in place of the traditional but plain gold band creates an piece of jewelry that makes a significant statement. Imagine the endless circle of diamonds set alongside the sparkling stone of the engagement ring. The result is a glittering declaration of the love and commitment of your union, and it's a result you get when you shop WeddingBandsWholesale.com. Our mission is to provide you with the wedding jewelry of your dreams and, when you browse through our extensive collection of engagement rings and wedding sets, including eternity bands, we know you'll find just what you've been looking for.
There are those who like the traditional look of an unembellished band, preferring to let the solitaire in the set be the star. While there's no denying that any of the stunning engagement rings we offer can certainly handle the job, we think you'll appreciate the striking look created by pairing an eternity wedding band with your solitaire. Whether you choose an eternity band encrusted with stones all the way around or you go for one with jewels set half-way around, the effect is dazzling.
Huge Selection of Eternity Wedding Bands
Browse around our site and take as much time as you need. WeddingBandsWholesale.com has the widest selection of wedding jewelry you've seen in a long time. Add your favorites to your "wish list" so you can compare them side-by-side and narrow it down to one. Be sure to include an eternity wedding band or two for variety, and so you'll have an idea of how amazing your wedding set can look. Remember, too, that if you don't see exactly what you want among our extensive collection of wedding jewelry, we can work with you to design the perfect set you have in mind. It's all part of our commitment to perfection.