An eternity band ring is more than a beautiful piece of jewelry. Because a circle has long been the symbol of eternity, unbroken and without beginning or end, an eternity band ring is the ideal gift for the one you love and the perfect way to let the world know you have found the one you wish to spend your life with. At WeddingBandsWholesale.com we specialize in the stunning wedding jewelry you've been looking for. From engagement rings to wedding sets, his and her jewelry both, we delight in offering an extensive selection of eternity rings.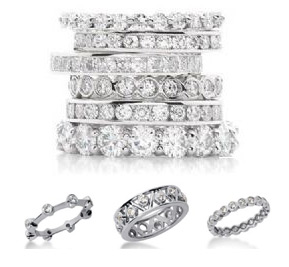 Anniversaries have traditionally been the likely time for giving an eternity band ring. For this reason, they're also sometimes known as anniversary rings. The past few years, though, have seen a slight shift in the trend of wedding jewelry, with anniversary rings taking their place as part of the bride's wedding set. Placed alongside a stunning solitaire, a glittering eternity band takes the look of the set up an extraordinary notch. Men's eternity bands are an exquisite departure from the traditional plain gold band, too, giving the groom a distinctive piece of jewelry that is as unique and singular as his bond with his bride.
Huge Selection of the Perfect Eternity Band Ring
You can be assured that you'll find your perfect eternity band ring at WeddingBandsWholesale.com. With our commitment to quality and perfection, we've gathered an impressive collection of an array of eternity band styles. We know, however, that it's sometimes difficult to find just the ring you're looking for. That's why our master jewelers are at your service to help create the eternity ring of your dreams, plus you'll still get your custom jewelry at a fraction of the cost of most in-store or online jewelry retailers. You know the wisdom of trusting specialists in other areas of your life -- trust WeddingBandsWholesale.com for the best in wedding jewelry.