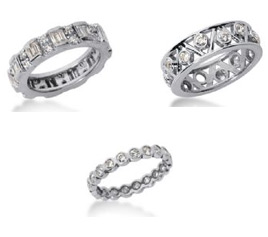 If you are looking for a way to make your forthcoming anniversary truly special, an eternity ring is the most thoughtful gift a man could buy his wife. You may be wondering, what is an eternity ring? An eternity ring is a beautiful symbol of eternal love and never ending commitment. An eternity ring is one of the most romantic gestures a man could make toward his wife, and it can also be one of the most expensive, unfortunately. Luckily, when you purchase an eternity ring with weddingbandswolesale.com, you can help yourself from a selection of well priced, high quality eternity rings that will amaze your wife on your anniversary.
Every woman has unique tastes and preferences, which is why we carry a plethora of eternity rings in different cuts and shapes. We carry princess cut rings, pear, and round, with gold and platinum bands. Are you shopping with a limited budget? No problem. Our inventory includes everything from cubic zirconia to 18 karat gold. The eternity ring comes in a stacked option or can be worn individually. All diamonds are hand-set to ensure the highest quality.
What is an Eternity Ring? A Symbol of Love and Celebration
An anniversary is a major milestone that deserves a celebration, and the eternity ring is the perfect way to celebrate. What is an eternity ring? The eternity ring typical has small diamonds set side by side throughout the entire ring. The circular ring of diamonds is a symbol and reminder of the promises made between a couple. To reconsider your question, what is an eternity ring? It is only one of the most beautiful gestures a husband could make!
Weddingbandswholesale.com has over 40 years experience helping husbands find the perfect rings for their partners. We take pride in the fact that we provide high quality, high caliber rings at an amazing value.