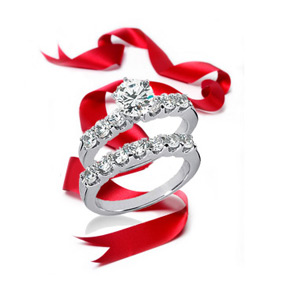 Guys, when you've finally decided it's time to take the plunge, you'll want to know how to pick an engagement ring. It's a huge step and a big deal. You want a beautiful ring for a beautiful girl, and you want it to be everything she's been dreaming about since she was 5 years old playing "bride" with a pillowcase on her head as a veil. What this all boils down to is that selecting the perfect engagement ring won't be as simple as cruising a few websites or running down to the local jeweler to buy whatever is in stock in your price range. It's for just those reasons that you should go to WeddingBandsWholesale.com first.
The experts at WeddingBandsWholesale.com wrote the book on how to pick an engagement ring. We know that, no matter what the trends are, it's the shape of the stone that is most important. It doesn't really matter what is the cut of the moment. Instead, choose the type of cut your lady love loves. At WeddingBandsWholesale.com, we have a vast selection of diamonds in all types of cuts including round, emerald, cushion and princess.
How to Pick an Engagement Ring - We Can Help
Once you've selected the stone and the cut, then you can start looking at settings. Again, this is a time to consider what she wants. If she has every season of Downtown Abbey on DVD, for example, you won't go wrong with a vintage setting, or a traditional one at the very least. When you come to WeddingBandsWhilesale.com for help on how to pick an engagement ring, we can even work with you to create a custom design. That comes in handy if you aren't sure what type of setting the woman in your life wants. Even if you are sure of her taste, however, nothing is as heartfelt as a custom-made engagement ring from WeddingBandsWholesale.com.