If you tend to think of diamond-encrusted eternity rings as feminine and for women only, then WeddingBandsWholesale.com's wide selection of eternity and anniversary bands for men will surprise you. The terrific thing about jewelry is that there really are no rules. It's true that a full circle of fiery, sparkling diamonds look incredible on a woman's finger, but a more masculine version of a series of diamonds, spaced evenly around a wide, manly band can be just as extraordinary on a man. The simple adjustment of widening the band and distributing the diamonds evenly create a stunning piece of jewelry that any man, of any background and taste, would love to wear.
Eternity Rings - The Symbol of Eternal Love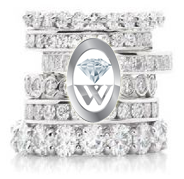 As a symbol of eternal love, eternity rings are stunning additions to a wedding set. They provide additional options when it comes to accessorizing for a normal day at work or a special evening event. Men and women alike can choose to wear an eternity band with their wedding sets or separately in place of the wedding bands to create a fashionable statement while still displaying the universal emblem of marriage. Additionally, anniversary and eternity bands are fabulous gifts for couples to give each other for anniversaries, but they're beautiful surprises for any occasion.
When you come to WeddingBandsWholesale.com for wedding jewelry, you'll find a large collection of anniversary and eternity rings in many designs and styles. You'll have a choice in gold colors and will find platinum eternity bands, too, ranging from completely covered in diamonds to more understated settings of the sparkling stones intermittently spaced for a less elaborate look. All the jewelry we carry is the finest quality and we offer it to you near wholesale prices, to truly bring you the finest and most your money can buy. WeddingBandsWholesale.com's commitment to perfection is a promise you can count on.