Eternity bands can be worn by both men and women, but eternity rings for women tend to be especially exquisite. While more simple and understated looks are what appeal to men, women love sparkles, and few things sparkle as much or as brilliantly as a never-ending band of glittering, fiery diamonds. At WeddingBandsWholesale.com we love creating women's diamond jewelry, especially eternity and anniversary bands. It gives our talented craftsmen the opportunity to take their design skills to the next level with the goal of leaving every woman who receives one of our bands completely breathless.
Eternity Rings for Women - Both Stylish and Affordable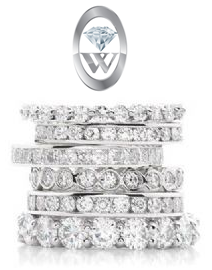 The dazzling gems set in traditional white or yellow gold are stunning in their own right, but setting the gleaming, flashing stones in platinum pushes the look beyond striking and into the dramatic. Using platinum in eternity rings for women intensifies the fire in every stone, making our platinum eternity rings true works of art -- and it's wearable art. Women love wearing their eternity bands alone, in place of a wedding band with a solitaire or as an alternative to their wedding sets altogether. The versatility of our fine jewelry is just one more reason to shop WeddingBandsWholesale.com.
We are committed to giving you the best quality wedding jewelry at the best prices. That's why our eternity rings for women, along with all of the jewelry you'll find at WeddingBandsWholesale.com are priced near wholesale. Whether you're shopping engagement rings, wedding sets or eternity or anniversary bands, you'll find magnificent men's and women's jewelry at surprisingly affordable prices here. We pride ourselves on the wide selection of rings we have in stock but, if you don't find what you have in mind, our expert jewelers would love to consult with you on an original creation. Our commitment to perfection ensures your satisfaction every time at WeddingBandsWholesale.com.