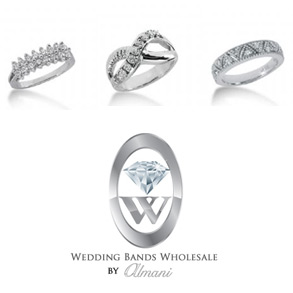 Anniversaries are special milestones that should be celebrated in sophisticated and style. What better way to surprise your partner than with a beautiful piece of jewelry you have picked out from a large selection of diamond anniversary bands? We have one of the largest selections of wedding bands and anniversary rings online. Customers can custom select the perfect piece of jewelry for their special someone. We offer a variety of diamond shapes - from round brilliant to princess cut to emerald cut to pear shape. You can choose from white gold, yellow gold, and traditional gold. Each ring is handcrafted, with diamonds that are set by hand that are sure to stay for years. Add engraving for free! You can engrave a special word or phase to personalize the ring for your partner, adding that special touch.
Diamond Anniversary Bands - Stylish, Affordable, Unique
Diamond anniversary bands do not have to break the bank! At Weddingbandswholesale.com, we pride ourselves on providing a selection of anniversary jewelry that is affordable, without having to compromise on the quality of the jewelry. While diamond anniversary bands are the most common, some customers like to surprise their partners with a tennis bracelet, hoop earrings, or handmade bangles for the anniversary. Whatever you prefer, you can purchase confidently from weddingbandwholesale.com knowing that you are receiving the finest quality, most affordable jewelry on the market.
Buying from weddingbandwholesale.com could not be easier! Our customer service is unbeatable! With an A+ rating from the better business bureau, we strive to provide the best and most ethical customer service we possibly can. We offer free shipping on all of our orders and offer a lifetime warranty on all of our jewelry.
An anniversary is a huge milestone, which is why finding that perfect gift for your loved one is crucial. Search from our large inventory and find a ring that is perfect for your special someone.