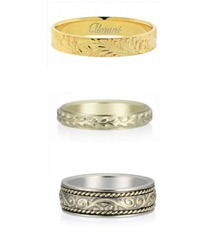 When you have your heart set on something unique and different for your wedding set, antique rings from WeddingBandsWholesale.com fit the bill. If you've been hitting every flea market and estate sale in a 100 mile radius in hopes of finding a wedding ring like no other, you know it's not as easy as it sounds to hunt down old-fashioned jewelry. At WeddingBandsWholesale.com, though, we are ahead of the trends with a wide selection of antique wedding bands.
We want to make it easy and affordable for you to find the perfect wedding jewelry that carries an air of history. That's why you'll find more antique rings at WeddingBandsWholesale.com than you've probably found over years of searching. Thin bands, wide bands, intricately etched petal and scrollwork or simple spiral designs -- you'll find them all and more at WeddingBandsWholesale.com. Rose gold, white gold, yellow gold or platinum, the choice is yours when you come to us first in your search for the perfect wedding jewelry. At WeddingBandsWholesale.com you even get a choice in finishes for your rings including shiny, matte, satin or hammered finishes.
Antique Rings, Anniversary Rings, and Much More
The bottom line is that this is your special day, and you should have the rings you want to seal the deal. When that means antique rings, WeddingBandsWholesale.com has them. On the other hand, if it means contemporary wedding jewelry, we can help you there, too. We have a large selection of the newest designs for engagement rings, wedding bands and anniversary rings. We carry both men's and women's rings, too, so you can make it a one-stop shopping trip for all your wedding jewelry. Plus, if you can't seem to find just the right ring or wedding sets, our expert jewelers can work with you to create custom jewelry. It's all at WeddingBandsWholesale.com where you'll find a union of promise, perfection and commitment.