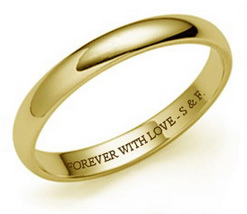 Your wedding day should be one of the most important days of your life. After all, it's not every day that you get to focus exclusively on you and your spouse-to-be. Picking the right wedding rings to symbolize your love and commitment can make the day even better, and one way to make your rings even more meaningful is with personalized wedding ring engraving.
Whether you and your spouse get matching rings or not, the style of your rings should represent you and match your style. Your rings are the physical symbol of your love and marriage. It shouts to the world, "I love this person!" An engraving, however, is meant for just the two of you, something just a little more intimate.
Engravings can be very simple, like your names or important dates. Another simple, yet classic choice is a single, significant word like forever or always. It's your choice whether you go with something like this or something a little more elaborate.
Wedding Ring Engravings from the Heart
Your wedding ring engraving should be as unique as your relationship. It should represent something important to you as a couple. Engravings can be romantic, religious, poetic, or even humorous or geeky. Just a few ideas include:
A special saying
A significant song lyric
A scripture reference
An inside joke you share
Having your ring engraved with a phrase that is in another language like Latin or French can limit the number of people who understand it, making it even more personal to you and your spouse. No matter what you choose, an engraving can make your rings just that much more special. Engravings can be placed on most wedding ring metals.
Unfortunately, due to the stone settings, engraving doesn't work on some ring styles like diamond eternity bands. But if your chosen ring style allows for it, you may want to consider an engraving.