So, you've found "the one", you're in love, and you want to get married. There are just two more hurdles: the ring and the proposal. Today, we're going to talk about how to choose an engagement ring.
We asked around a little bit today, and found that while most of the women we asked would want to be surprised by the proposal, many of them would also want to be involved (at least to some extent) in choosing an engagement ring. Of course, even those who want to be surprised by the ring want the ring to be perfect.
How to Choose an Engagement Ring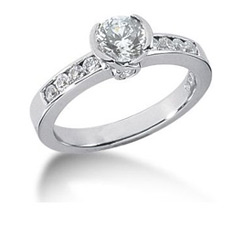 We've put together a list of 5 elements that you should know before you really start ring shopping. All of these are important whether you're picking out the ring on your own or together. However we're going to assume that you're trying to surprise her with the perfect ring. But, how to pick an engagement ring?
Ring Size
When you pop the question, you're going to want that ring to fit. While many rings can be resized if you don't get it just right, you'll want it to be close enough for her to wear it immediately. You should also know that some metals can't be sized, making the right size even more important.
But if you're picking out the ring, how do you make sure you get the right size? There are a number of ways to get this information without her knowing. If she has a ring that fits the right finger, you could trace the inside of the ring or try it on your own finger, marking where it rests. If she's a deep sleeper, you can wrap a string or piece of paper around her finger and mark the measurement.
Probably the best way is to enlist her friends or family as accomplices. They may have bought her a ring in the past, or the topic of ring size may have come up in past conversations. You can even get one of her girlfriends to take her to look at rings and find out her size "just for fun". This can be your best option, because it can also help with the other elements you need to know.
Metal
The next thing to consider is what kind of metal she likes. Does she like traditional yellow gold? Does she enjoy the warmer tones of rose gold? Is a white metal more her style? This one can actually be relatively easy to guess: just check out the jewelry she wears most often!
Besides color, there is one other factor to consider when choosing a metal. That is the durability of the metal. Is she hard or easy on jewelry? She'll probably be wearing her engagement ring every day, so this is definitely something to consider. If she needs or wants a more durable metal like titanium or tungsten carbide, you should be aware that many of them cannot be resized, making getting the correct size even more important.

Check out our blog post on wedding ring metals for more information on commonly used metals.
Gemstone Type
They say that diamonds are a girl's best friend, but every woman has different tastes. The most common gemstones for engagement rings and wedding bands are diamonds, but not every woman likes them. This is another one that can be pretty easy. You can start a conversation about birthstones or ask her what kind of gemstone she would like in a necklace. Another idea is to tell her you are looking to buy a piece of jewelry as a surprise for a female relative and ask her opinion of different gemstones. Often, this type of discussion will include what types of gemstones they like and which ones they don't really care for.
Setting
There are several different types of settings. The main thing to know is if she wants a stone or stones that are set above the ring or if she would prefer a setting that is less likely to get hung up on things. Common setting types include channel, prong, bar, box, and bezel. You can learn more about different setting types on our education page for diamond eternity bands.
Gemstone Shape
Shape is especially important if you get a traditional diamond solitaire or a ring with a larger center stone with accent stones to either side. This one can be a bit more difficult. Again, you can bring this up in conversations about gemstones in general or other types of jewelry. This might be a good one for involving those accomplices we discussed.
This is one that you or your accomplices may not be able to find out. It's also possible that she hasn't really thought about it much. Here is some advice if that is the case. If she is pretty traditional in her style, you'd probably be pretty safe with a round brilliant or princess diamond. If her hands are small or her fingers are shorter, a marquise, oval, or pear shaped diamond can be a good choice.
We hope this information helps and you in picking an engagement ring. Don't stress about it too much though. After all, love for you will go a long way to making her love the ring you give her.