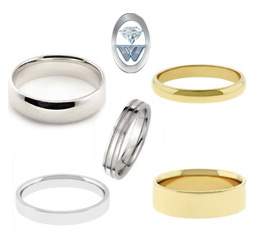 When it is time to get married you want to buy your future spouse a wedding ring that captures their personality perfectly. The problem is, when you go to a jewelry shop it seems that every wedding ring is the same; if you are looking for different wedding rings to really give your spouse that "wow" factor, then you need to broaden your search. At WeddingBandsWholesale, we offer a wide variety of different wedding rings for you and your spouse, and we can get you that ring for a great deal as well.
First things first, when you go shopping for wedding rings you need to leave behind any preconceived notions about buying rings. Leave behind the idea of three month's salary or the size of a diamond is the size of your love. When you find the right ring, you will know it, and your future spouse will be thrilled about the opportunity to spend their life with you. At WeddingBandsWholesale, you can dispense with the nonsense and high pressure sales tactics you might find at a standard diamond store. Here, you can take your time and find the ring that is perfect for you and your spouse.
Looking for Different Wedding Rings - Unique and Stylish
When you start your search for different wedding rings at WeddingBandsWholesale, you have a lot of options to choose from. If you know the style of ring you want, picking a category makes it easy to find different rings that will be perfect for your spouse. For example, those with Celtic heritage may find the perfect ring almost immediately in the Celtic section, but for those who want something a little more daring, the contemporaneous section might be just what you are looking for. The sky is the limit when it comes to your wedding rings. Take a look at our huge database of selections and find your perfect ring today.