When you are thinking about asking your significant other to marry you, it can be a very stressful time, but few things are more stressful in this situation than figuring out which types of wedding bands you want to buy. It is no secret that a wedding band is an extremely important symbol of your love, so getting this selection right feels crucial. What you do not need is the feeling of pressure to buy something when you go into a ring store at the mall. Looking online for different types of wedding bands is a great way to get a feel for what is out there on the market while remaining somewhat aloof from the sales tactics at a standard brick and mortar store.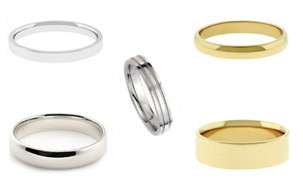 In fact, when you go with WeddingBandsWholesale you have the option to search from different types of wedding bands on the opening webpage. This is a great way to get your feet wet and figure out what is out there, and you will probably find that you will quickly figure out what sorts of rings are your preferred styles. With an easy to use interface that can sort rings by style, price, diamond cut or weight, color, and even width, you will quickly be able to locate the perfect wedding band for you and your spouse with plenty of time to spare to think about other wedding essentials.
We Have Many Types of Wedding Bands - Unique, Stylish, Perfect
When it is time to start planning for a wedding, you have dozens of things to think about. You need to do everything you can to make it easy on you and your future spouse. Going with WeddingBandsWholesale makes it easy to figure out your wedding rings and that gives you time to think about other plans. With our diamond experts on hand to help you, you are sure to find the best ring that will endure as a symbol of you and your spouse's love.