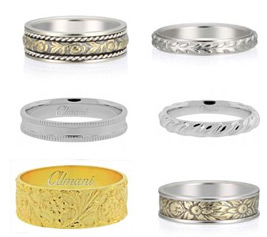 A wedding ring will be one of the most important gifts you ever buy your partner. At Wedding Band Wholesale, we have over 40 years experience helping our clients find the perfect wedding ring among our huge selection that includes antique weddings. Every bride has her own personal style and preference. Together with our clients, we listen to your wishes and style preference to help you find the perfect ring.
Our antique wedding rings run the full range of prices. With rings as inexpensive as $250 and rings that exceed $3,000, we have a selection that will satisfy all budgets. Our inventory includes rings made from 14 karat gold, 18 karat gold, and platinum material. Prefer a princess cut or a solitaire diamond? No problem. Our selection is large enough that we offer a huge range of different cuts and designs, never limiting our clients. We offer rings in yellow and white gold, and antique wedding rings in a timeless, classic shape and design. We offer rings for both the bride and groom, allowing for coordinated looks between husband and wife.
Antique Wedding Rings, Diamond Wedding Rings, and Much More
One of the reasons why clients choose us for their engagement and wedding rings is because of our superior customer service. We pride ourselves in perfection - delivering not only with our products but with our treatment and care of each individual customer. We stand by our products, offering a 30-day money back guarantee on all rings that are non-customized. Our rings come with a free gift box to protect and beautify each item. Our A+ Record with the Better Business bureau establishes us as a trusted wholesaler that delivers on its word.
If you are searching for antique wedding rings, look no further than Wedding Band Wholesalers. When it comes to cost, quality, and customer service, no one does it better than Wedding Band Wholesale.