Whether you have plans to tie the knot in the near future or you want to renew your vows, you may be looking for the perfect wedding bands for the occasion. There are a wide range of options available for you to consider, and you may have the preference to purchase unique rings for him or her, or you might be looking for a matching set. A wedding bands retailer that sells items at wholesale prices is your best option to turn to for all of your wedding bands needs. They will carry an amazing selection of jewelry to choose from at very competitive rates. Eternity wedding bands are among the most popular styles, and there are different options available with this style.
Different Metals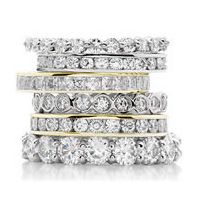 The eternity sets generally have the unique look of a repeating style or pattern around the entire band. The underlying theme of these sets is a representation of undying love and affection. Select your preferred metal type, such as white gold, yellow gold, rose gold or platinum. The metal may also have your choice of finishes, including a shiny, matte or satin finish. When you spend time shopping online for eternity wedding bands, keep in mind that most styles featured in product photos can be customized with your preference of metal type and finish.
The Stones
Many of the eternity sets also have diamonds set in them, but some are simply a metal design. With styles that have diamonds, you can further customize the ring by selecting the ring size. The ring size with eternity sets will affect the number of stones in the setting, and this is because the diamonds may be placed in a repeating pattern around the entire length of the ring. In addition, you can select the clarity of diamonds.
The Savings
When you are purchasing wedding rings, you can easily spend a small fortune on stylish, quality rings that both you and your spouse or fiance love. The savings that you can enjoy by shopping online is evident up-front. As you compare product images to select a style you love, you can see how much money you will save off the retail price when you make your purchase. However, some of the customizable features may result in a price difference. A wedding band is a symbolic token of the undying love between two people, and the eternity design is highly popular with couples. If you are preparing to exchange or renew vows soon, you can begin looking for the perfect rings to exchange at your ceremony. With so many fabulous styles to choose from, you can easily find a great style you love. In addition, you can customize the ring's metal, finish and stones to suit your needs and budget. Eternity rings at wholesale prices make it easy to save money on the perfect set of wedding bands.