Weddings are special occasions unlike any others. Choosing the person to spend one's life with and embarking on a journey together is like no other decision. Many people want extravagant weddings, and while it is up to personal taste, there is no need to spend a superfluous amount on gowns, dresses, flowers and everything else when it is not necessary. A bride can have her dream wedding while the groom and bride save money for their marriage. For instance, a bride can choose from diamond-cut wedding bands at wholesale prices. Wholesale priced wedding bands provide the finest without the marked up amount.
When people pick out jewelry, one of the things that they don't realize is how often jewelry can change hands. Each time a piece of jewelry is sold, it has to be marked up; otherwise the seller cannot make a profit. By the time the customer sees the piece of jewelry in the showroom, it may have changed hands a few times, which makes for significant markup prices.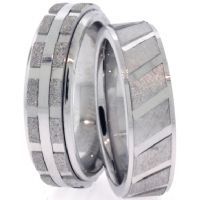 However, companies who make their own pieces of jewelry and can sell them directly to their customers can provide the best prices that can't be beat. Wholesale jewelry can, therefore, be sold for low prices despite its exceptional quality. This can be accomplished by a company who creates their own designs. In addition, a company who chooses to allow their customers to be a part of the creative process gives the customer mutual control over pricing options. The end result is that a customer has a one-of-a-kind piece of jewelry that was custom-made by a professional at an affordable price. This is precisely why many customers choose to go this route.
For companies who provide custom-made jewelry directly to their customers, customers know that the price of their jewelry cannot be beat elsewhere. In addition, because each piece is custom-made, customers know their designs are truly unique. Diamond-cut wedding bands that are uniquely made symbolize the special love shared by a couple. Wholesale priced wedding bands are wonderful for those who are entering engagement or for those who may wish to update their rings. Custom-made jewelry can be created with premium selections of diamonds and metals as desired. This is because the customer has control over the design process and is not offered something that is pre-made.
A wedding is a lot to plan and can be costly, but planning ahead can greatly reduce the cost of a wedding. There simply isn't anything finer than making smart choices and securing a future with the one a person loves.