A wedding band is one of the most well known signs of marriage in today's world. While almost every person who is married has a wedding band to represent their union with their spouse, the options for types and styles of wedding bands is practically endless.
At Wedding Bands Wholesale, we offer a wide range of wholesale priced wedding bands for both men and women. Whether you are looking for a traditional wedding band or are wanting to branch out with a unique style, we are sure that you can find the exact wedding band you desire when you shop with us.
Antique Wedding Bands
In recent years, it has become very trendy to wear antique and vintage jewelry and other accessories. These antique bands are timeless and classic. Available in all golds, palldium, and platinum, it is easy to find the perfect antique ring to represent your personal style. Each and every one of these rings are completely one of a kind due to the handcrafted designs surrounding the band. These breathtaking pieces will absolutely amaze those who see them.
Wedding Band Sets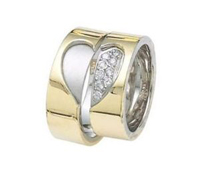 His and hers wedding band sets are perfect for couples that share the same taste in wedding band designs and styles. These distinctive wedding band sets create a statement for both spouses. Typically, one band in the set comes with half a diamond heart and the other band has half a heart carved into the band. When placed next to one another, a complete and full heart is created, representing the love shared between the couple.
Diamond Wedding Bands
Both men and women love wedding bands containing one or more diamonds. This type of traditional wedding band is especially elegant and eye-catching. And with Wedding Bands Wholesale's low pricing, you can find even the most luxurious bands for a great price. Our diamond wedding bands can come in gold or platinum, depending on your personal preference.
Wedding Bands Wholesale is a great place to look for the wedding bands that will embody the never ending love that makes up your marriage. Shop our selection today to find perfect wedding bands at unbelieveable prices.