You do not want to see your wedding guests tapping their feet out of boredom, nor do you want to be that guest, right?

A great way to entertain your nearest and dearest whilst the bride and groom take pictures is by setting up a photo booth for your guests. A photo booth you ask?! Setting up a photo booth at a wedding, amazingly, can be done on any budget. One can make a variety of props such as faux mustaches and beards, bright red lips, oversized sunglasses or however you want to personalize your props. Amusing backgrounds such as a rustic barn, a skyline or a picture of the lovely couple with cutouts to wrap your arms around the couple, will be great additions to your pictures.

Kim Kardashian wed Kanye West and held a photo booth of their own, on their special day. Their celebrity guest list loved this! John Legend and his wife Chrissy Teigen, Jonathan Cheban, Tony Williams, the Kardashian sisters, and the bride and groom too, were all fans of this creative and interactive activity.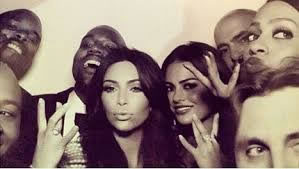 There are photo booth rental services that set up the props and instantly print out the pictures and give them to the guests for souvenirs. This trend will surely be loved by the bride and groom and all their guests on their memorable day.
No matter how young or how old your guests are, if you are looking for a fun and inexpensive way to add something special on the most extraordinary day of your lives, I think a photo booth will definitely add to the occasion!