A wedding is considered one of the happiest occasions we celebrate. However, there can also be a considerable amount of stress involved during the preparation stages. It requires a significant amount of time, money, and headaches in order to produce the perfect day. One way you can cut down on the hassle is to buy his and hers wedding bands in a set. There are some noteworthy advantages to making this purchase.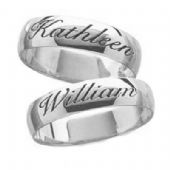 A Uniform Look
Any bride desires a matching ring for herself, which can be difficult to find if the engagement ring and wedding band are bought separately. Likewise, it can be extremely difficult to find a band for the groom that matches the bride's. Women's rings are often more unique and involved than men's rings, and it can be very difficult to match that. Buying a trio set isthe easiest way to resolve that problem.
Symbolizes Eternity
Weddings are largely about symbolism, and the wedding rings are the most symbolic of all. A matching his and hers wedding ring set functions as a symbol of a powerful commitment shared between the bride and groom that will last forever. Purchasing a wedding band set also shows your future spouse that you are responsible, dedicated, and in for the long haul.
Save Time and Money
Buying the engagement ring, wedding band, and groom's ring can be a grueling and time-consuming process if they are all bought separately. That process would require traveling from store to store, trying on rings, and comparing the best prices to find ones that match. Finding your perfect trio set could still take quite a bit of shopping around, but it is much easier to find the matching set you want.
It is also considerably cheaper to buy the rings in a set. The manufacturer is able to produce them cheaper this way than manufacturing, packaging, and retailing the rings separately. It's almost as if you are buying rings for a wholesale price.
Convenience
If you buy your rings in a set, you only have to deal with one jeweler and one warranty. There is no need to worry about filing separate documents or traveling more than one place to get the rings cleaned, maintained, and repaired.
Overall, buying a wedding ring in a set can save you a lot in time, money, and stress. There is no need to jump from store to store when everything you desire in wedding band sets can be taken care of in just one purchase.