Celebrities are known for their glamorous appearances and dramatic lifestyles, so naturally, their wedding bands need to be just as flashy. New trends in celebrity wedding rings offer styles that are bold, bright and big. Take a look at these three hot trends your favorite celebs are sporting.
1. Diamond Eternity Bands
With their continuing sparkle and multiple stones, diamond eternity bands are a popular choice among stars who love to shine. Eternity bands come in a variety of styles, though most feature an array of tiny diamonds that go all the way around the band. Some diamond eternity bands feature a large stone in the middle or a set of three stones which represent the past, present and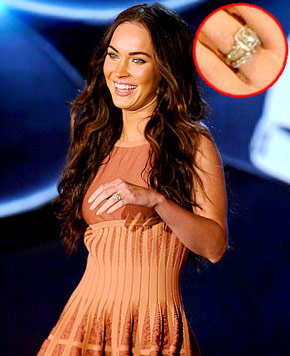 future of a couple's relationship. Country singer and American Idol star Carrie Underwood wears a simple diamond eternity band that matches the eternity stones on her engagement ring.
2. Vintage Designs
Many celebrities also choose rings that are a throwback to earlier decades. Vintage wedding bands have been a popular choice for several years now and don't show any sign of stopping. Most vintage rings feature delicate filigree designs along the band and diamonds in varying sizes. Some celebrities wear truly vintage rings that feature valuable or historic diamonds, while others choose new diamond wedding bands that are designed in a vintage fashion. These rings have a sentimental feeling and are a truly timeless classic that will never go out of style. Actress Megan Fox received a beautiful vintage band with diamond eternity stones from her husband, Brian Austin Green.
3. Rings with Colored Stones
Diamond wedding bands with colored gemstones are another of the largest trends today as more celebrities opt for nontraditional wedding plans. Many outdated wedding practices have gone out the window and women now proudly wear colored dresses to match their colored rings. Some brides receive colored engagement rings, while others opt to integrate colored stones into the work on their actual wedding bands. This trend is due in large part to Kate Middleton's famous blue sapphire ring from Prince William. Choosing a colored stone is a great way for a celebrity to add personality to her wedding set, as the ring reflects the bride's individual taste and her desire to break away from tradition.