Tradition dictates that diamond is the perfect gemstone ornament to wedding bands. It symbolizes timelessness and embodies lovers' eternal love and devotion. But with gifted jewelers around the world introducing contemporary wedding rings in the market, more and more couples are now choosing gemstone rings to wear around their fingers. With the wide variety of attractive and precious gemstones there is, anyone who wishes to add a little bit of uniqueness and personality to their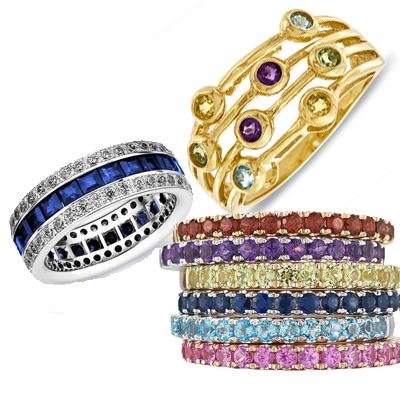 wedding bands will not find it difficult to find the right gemstone rings.
Popular and the more uncommon gemstones from the more popular choices like sapphires, rubies, amethysts, emerald, and aquamarines, to the more unusual gemstones like tourmalines and opals, the bride to be is sure to glow with the beauty of gemstones on her ring. These precious stones may be set on metal bands like white, rose, and yellow gold, as well as platinum to make attractive wedding bands and engagement rings. They also come in different shapes including circular, square, marquise, tear-drop, and heart-shaped.
Fit for Royalty
One famous example of the use of gemstones in professing love is the engagement ring Prince William gave to his bride-to-be Kate Middleton. The ring, which was originally given by Prince Charles to the late Princess Diana, is set with stones fashioned in such a way that the focal point is on the 18-carat natural sapphire, which is surrounded by 14 tiny diamonds. Not everyone, of course, can afford to spend thousands of dollars on a ring, but it is easy enough to find less expensive options from local and online jewelers. A lot of cheaper replicas of Kate Middleton's ring, for instance, are being sold in many places online for as low as a hundred dollars or less.