Plain Milgrain Wedding Band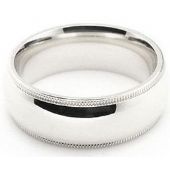 WeddingBandsWholesale.com customers love the simple and clean look of a Plain Milgrain Wedding Band. This beautiful detailing of the plain milgrain wedding bands is created by a row of tiny dots along the edge of the band. This look is elegant and subtle, and it is available in a double or single track. From start to finish, the team at WeddingBandsWholesale.com has our customers in mind, and we always want our beautiful rings to be a reflection of the individuals who wear them.
**All Rings Available in All Gold Colors, Palldium and Platinum**
Plain Milgrain Wedding Bands take the traditional wedding band and add a simple and elegant twist. Milgrain detailing consists of a row of tiny dots on the outer edges of the ring. This unique addition is available in a single or double track, and either choice makes a significant impact to the look of the wedding ring.
Whether you choose a gold or platinum wedding band, milgrain detailing can be added to the ring, giving it a subtle but distinct look. While these rings maintain the classic look of a traditional wedding band, the milgrain gives the ring a little something more that doesn't go unnoticed.
When purchasing your wedding bands, the WeddingBandsWholesale.com team is here to help you every step of the way. From the difference in gold karats, to the benefits of buying platinum, our highly-trained customer service representatives are here to answer all of your questions. The number one priority of our dedicated team is to achieve the highest levels of customer satisfaction, in all aspects of their shopping experience.
From concept to shipment, every aspect of the design and manufacturing process takes place in our on-site manufacturing facility in the heart of New York City's Diamond District. By cutting out the middle-men, and dealing with our customers directly from our factory, we are able to offer incredible prices that are much lower than traditional retail.